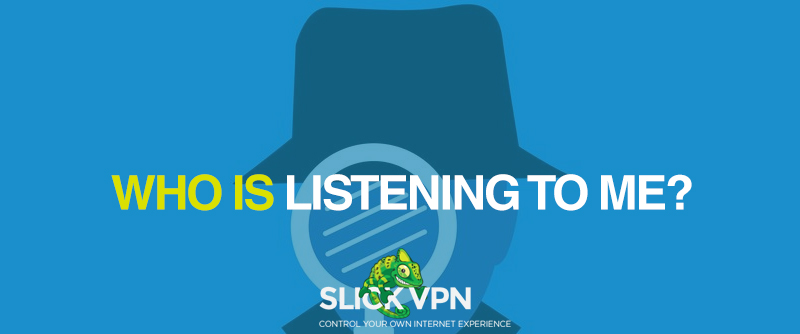 WHO IS LISTENING TO ME?
Hey, Siri.  Who's spying on my conversations?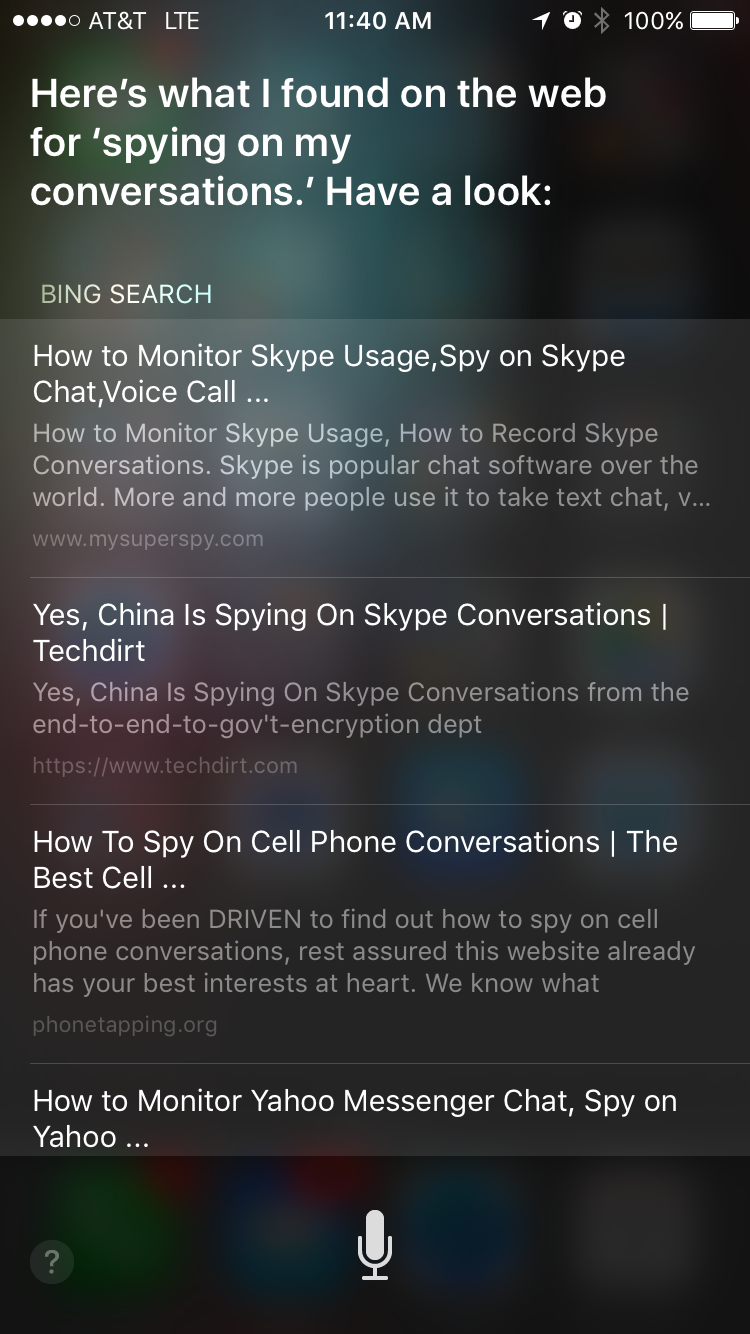 If you actually try this, you'll likely see something like this:
But the point here isn't really about what Siri returns when she is queried by you.  The point is that with the newest version of Siri, Siri is always standing by, ready to listen.
Or is it that Siri is always standing by, and always listening?
If you've seen commercials for the Amazon Echo  or the new Samsung SmartTV you'll begin to get the idea that this voice recognition thing is getting really big.  And it looks… well, fun!  The idea of getting immediate answers by simply asking your newest electronic friend a question is pretty nifty.
But have you wondered about potential security issues?
Search online for that Samsung SmartTV, and one of the first things returned by Google is a CNET article about how to disable the voice activation.  One reason people may want to do this:   some models of devices from Samsung ,  Moto X , Amazon Echo , Microsoft Kinect and  the iPhone with the   Hey, Siri command  enabled are in fact always listening.  Though Samsung stresses that their Samsung PN60F8500  TV won't actually process anything you say until you give a voice command, like "Hi, TV."
Those reassurances may not  mean much to USA TODAY columnist Kim Komando, who listed 3 other devices that are always listening—and gave advice about how to stop them.  Obviously, the privacy concerns are real.  And this is very early days in the life cycle of the product.
That is one reason the Voice Privacy Industry Group was recently launched at the RSA computer security conference. They know it's hard to get the genie back into the bottle—and a voice privacy agenda is best set "early on… not later when something (is)… fundamentally broken," said Lynn Terwoerds.  Terwoerds is the executive director of the Executive Women's Forum on Information Security and Risk Management, and she cited concerns about "all sorts of conversations that are going on and are meant to be personal and private," and a growing array of potential electronic audio intruders.
Concerns like:
How much does the device record?
Is the audio stream encrypted?
How long is it stored?
Who has access to the information?
What are companies doing with it?
If you think about it, the fact  is that everything within range of the microphone could theoretically be being recorded, stored, and used by… someone.  Many of us are just starting to make peace with the idea of ad retargeting—search online for "hammers," and accept the fact that hardware themed ads are in your very near future.  Now think about an offhand comment or part of a discussion held in the privacy of your own home leading to targeted advertising that you definitely weren't expecting.
Imagine the uses for politicians.
Sure, crazy idea.  Even though House of Cards binge watchers have already seen in Season 4 the plotline of using a search firm's metadata to customize messages to potential voters.
What could the lawyers do?
They could get you a subpoena for a sound file recorded at any time in your home. It might be used in a criminal investigation—or perhaps during divorce proceedings.
What did you say last night you might later regret?
So far nothing has come to court, but that's not to say it won't.  Privacy experts aren't sure that the use of voice tracking such as this would be legal—but they're not sure it would be illegal, either.  Said Joel Reidenberg, Director of the Center on Law and Information Policy at Fordham Law School, NYC:  "These devices are microphones already installed in people's homes, transmitting data to third parties. So reasonable privacy doesn't exist. Under the Fourth Amendment, if you have installed a device that's listening and is transmitting to a third party, then you've waived your privacy rights under the Electronic Communications Privacy Act."
Guiding Principles of the Voice Privacy Industry Group:
Consumers must be able to opt-out
Clearly written informed consent information so that users know to what they are agreeing
What is collected and stored should be an absolute minimum
Manufacturers should have someone in charge of data privacy.
You may not have a voice-enabled device yet, and now you may think twice before getting one.  But there's no doubt about what you need to do to guard your privacy online.  With SlickVPN, you make yourself 100% anonymous when you are on the internet.  Private surfing, strong encryption for protection and security.
No one can monitor you. No one can affect what you do online.
All starting at less than $5.00 per month.
24/7 support, blazing fast connections, and a 30 day money back guarantee.
Control your own internet experience, and protect your privacy.