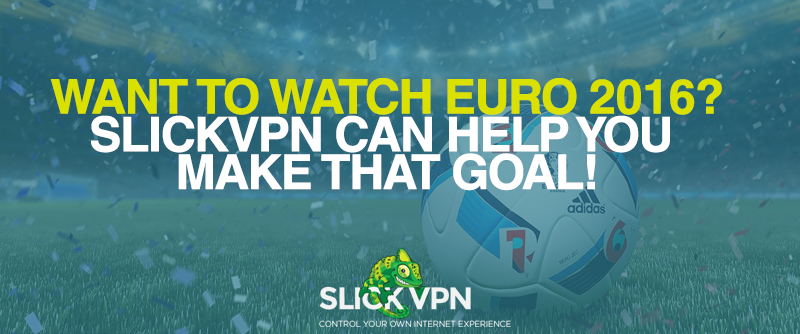 Want to watch EURO 2016? SLICKVPN can help you make that goal!
It's officially old news in America that football means something else in the rest of the world.  But similar viewing challenges for American football fans exist when it comes to viewing big football (soccer) games around the world.  Case in point?  The 2016 Euro under way in France now through Sunday, July 10th.   
The Euro tournament, more properly known as the UEFA European Championship, is the men's football championship of Europe.  Like the summer or winter Olympics, it happens only every four years.
Football, or soccer to Americans, is obviously huge all around the world, but in Europe the fan base size is nothing short of astounding.  And this year, with Spain being two-time defending champions (having won in 2008 and 2012), plus the final tournament consisting for the first time of 24 teams instead of the 16 used since 1996, there will be even more widespread interest.
In short, it's the biggest football event of the year.  
The winning team will compete at the 2017 FIFA Confederations Cup in Russia.  But until the winner is crowned, how are fans supposed to watch the games?
Fans in the UK can easily watch free coverage on the streaming channels of  BBC iPlayer or itv, and in Germany on ZDF.  But, just as with big American football games, most of not all official streaming channels are geo-blocked– they can only be watched by someone whose IP address matches the region for which the provider has rights.   
Here's the good news:  you can use a quality VPN service like SlickVPN  to bypass the geo-restrictions and watch Euro 2016 FOR FREE.  You'll be able to watch on your PC, Android, iPhone, tablet, Roku, Amazon Fire TV, Mac, and more.  And it's EASY.
How YOU Can Watch Euro 2016 Using SlickVPN
SlickVPN allows you to change your IP address and select one from almost anywhere in the world.  Select an IP address that matches the country of the provider with whom you wish to watch Euro 2016.  This will eliminate the geo-block, and you'll be able to stream to your heart's content– no matter where your physical body is.  
For instance, if you want to watch itv or via BBC iPlayer, connect to one of SlickVPN's UK VPN servers.  SlickVPN works with almost any device, so simply set up your VPN connection on the one you want to watch.  
There are other benefits, too:  while you're connected to SlickVPN, your internet traffic is encrypted.  No one can monitor what you do online.  No one can throttle your connection.  You are completely anonymous, controlling your own internet experience and viewing what you wish. And since you are using  SlickVPN with unlimited bandwidth,  you'll be able to watch with the highest possible quality.
Private surfing, strong encryption for protection and security, and watching what you want over computer, smart TV, or your choice of mobile device.  And the strong encrypted tunnel produced by SlickVPN means the addresses or URLs of any site you visit are masked, as well as any unique identifiers for you.  24/7 support, blazing fast connections, and a 30 day money back guarantee.