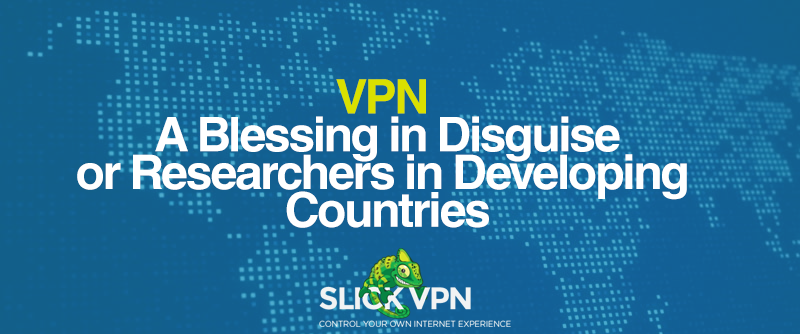 VPN – A Blessing in Disguise for Researchers in Developing Countries
Halfway through his thesis on international relations between Uganda and the US, Lanre – an undergrad student with a major in political science at a private university in Uganda – received an email from his supervisor:
"You've done a great job at finding Ugandan publications. I'll like to see fresh literature from the US perspective; I'll tell you whether or not the research is any good. If you don't find any in the local library, use the internet."
Lanre was already using Google Scholar, but most of the literature he found was more than a decade old. He realized his supervisor won't be impressed after going through the email, and that he should start sifting through the internet again to find new publications.
And that's what he did. After learning a bit about how to find fresh literature via Google, Lanre started browsing the internet again, this time using specific years alongside his keywords. For instance, for literature that was published in 2014, he was using keywords like "US Uganda ties 2014" and "US views on Uganda 2014."
Just after a day, Lanre managed to hit the jackpot with his new approach. He found fresh publications by US researchers on his topic; journal articles and research papers that were published just a few months or couple of years ago. Delighted, he clicked on one of the URLs and waited for the publication to open.
But what he saw next left him devastated. To his dismay Lanre had to deal with this:

Lanre's case isn't an exception. Thousands (perhaps millions) of students and researchers in developing countries can't access fresh research publications by western authors because their respective country's IP is banned. Unless their university has an affiliation with a recognized university abroad, they can't even take the route of trying to access new publications from the partner university's online library.
In situations like above, a VPN (virtual private network) will come in handy.
A VPN account enables you to search publications with an IP address from another country. Therefore, individuals like Lanre can use a US-based IP address to conduct research for their thesis.
VPN is Useful for Researchers in Developing Countries
A VPN can be used by researchers in developing countries to get around IP blocks and access the latest publications by western authors, either free of cost or for a price. Virtual private networks are also used to fight government censorship, an internet filtering process implemented by a government to prevent a country's web users from viewing certain content.
PewResearchCenter's survey on internet freedom revealed that people in developing nations want access to the internet without government censorship. At least seven-in-ten of the survey respondents hold this view in 12 nations. While millennials particularly give priority to internet freedom, even those above 50 consider that web access without government interference is important.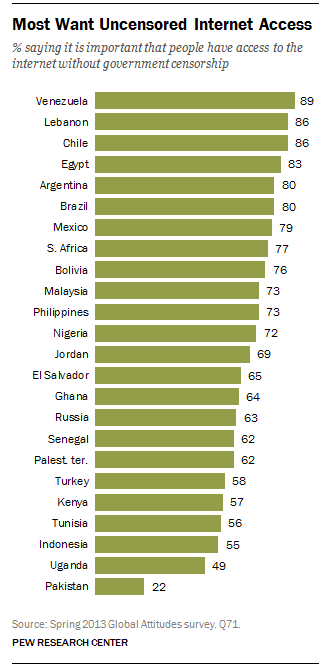 Many foreign universities themselves recommend students to use a VPN service if they want off-campus access to licensed electronic literature. Some even guide students on how to connect to the e-library without Split tunneling, and how to use custom IP settings in a VPN client to match the IP address with the university's IP address.
A VPN also enables access to academic literature with a high level of privacy as it implements quality encryption to a researcher's browsing session, protecting his/her identity while he/she collects the information required for research work. The good thing is that some publications can be downloaded in PDF format for offline use.
In contrast, researchers who attempt to use a proxy simply have their IP tunneled with no encryption, so a virtual private network is recommended over a proxy. Also, proxy forwarding doesn't work well to mask DNS requests when they're coming from another country, especially if that country is a developing country.
Also, if you've come across headlines that claim "Tor is a great alternative to virtual private networks", then you should know that Tor doesn't make your internet session anonymous. Tor itself has admitted that it doesn't have a solution to anonymity issues and warns users to proceed at their will. Moreover, an average internet user in a developing country would find Tor complex to set up.
In some developing countries, internet users have already jumped the VPN bandwagon. According to GlobalWebIndex, 41 percent of internet users in Indonesia rely on VPN, and VPN penetration was also high for Thailand, Vietnam, India, Taiwan, Malaysia and China. It was found that one in four people use a VPN service.
Virtual private networks also hide your online activity from snooping ISPs (internet Service Providers) in addition to hiding it from a snooping government. Perhaps your ISP is throttling your internet connection when you're searching for literature; a VPN will eliminate this issue by directing your data packets through an encrypted tunnel at a single point in time. Your ISP can't keep tabs on this.
An important thing to note: researchers in developing countries will use a VPN to aid their research efforts; not to hide identity from the government. They're looking for privacy and access, not secrecy in general. Therefore, VPN use won't make you anti-government if you're utilizing the technology in an academic context.
How to choose a good VPN solution?
If you've read this far and acknowledged that, "Yes, that is true! I want a VPN to be able to access the latest publications and improve the literature of my thesis!" then it's time to get serious with the selection.
Not all VPNs work in the same way. Some are worth spending on while others, especially free ones, are best avoided. That said, you should look for these characteristics in a VPN provider:
Reliability – minimum connection drops/downtime
Privacy – no logging/keystroke attempts
Use – easy setup, installation and daily use
Value – free trial, multiple payment options, low cost
Coverage – fast downloads and multiple exit gateway points in different countries
The last factor is the most important. You should be able to select the location of the exit gateway when the VPN is running. For internet users in developing countries, exit gateways (VPN servers) should be located in western states. Having this option gives you choice of using a particular country's IP address.
Taking these factors into account, a provider like SlickVPN will enable you to conduct research while providing a seamless browsing experience. It will hide your real location and allow you to connect to one of its 125 gateways in 45+ countries.
Providers like these also take user privacy seriously. For instance, SlickVPN introduced HYDRA, a protection system that frustrates anyone trying to intercept your private internet session by enabling multi-hop connections. For instance, if you connect to a multi-hop gateway in California, USA, the traffic that's created from your connection will be sent to a different gateway through another VPN tunnel, before it goes on the internet. The user data will never be associated with the user's IP.
The result? You'll feel like you're in another country, and you'll be able to access latest literature, all while having a peace of mind about your privacy.