Ubuntu/Mint OpenVPN on Network Manager
Download the SlickVPN crt file here
(Please rename the file from SlickVPNcrt to SlickVPN.crt)
1. Open the terminal
2. Install the network manager openvpn by typing the following into the terminal:
sudo apt-get install network-manager-openvpn and hit Return or Enter
sudo apt-get install network-manager-openvpn-gnome  and hit Return or Enter

3. Once the installation is complete, restart the Network Manager by disabling and enabling networking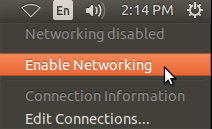 4. Click on the Network Manager Icon (two arrows), click Edit Connections. Click the 'Add' button in the Network Connections window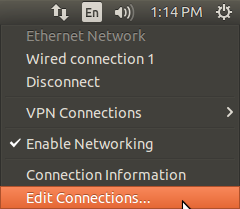 5. Click Create to create a new VPN interface; Choose OpenVPN for Connections type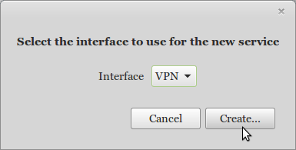 6. In the Editing VPN connection window, Enter the following details:
Connection name: SlickVPN
Gateway: gw1.mia4.slickvpn.com or choose a gateway from

here

Type: Password
Username:  SlickVPN Username
Password:  SlickVPN Main Password
CA Certificate: slickvpn.crt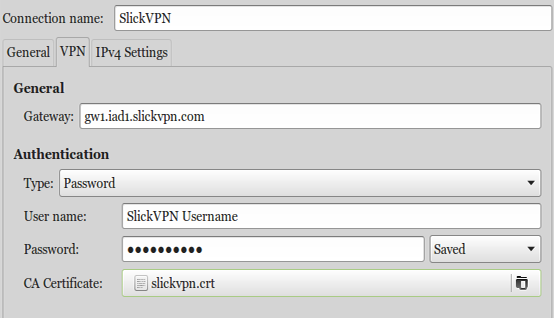 7. Click Advanced near the bottom of the window.
In the General tab
Custom gateway port: 443 or 8888
[Optional]: Use TCP connection

The Security tab
Cipher: AES-256-CBC
Click OK;
Click Save

8. Click the Network icon in the menu bar and activate the VPN. Enter the system password, if prompted.