SV Client User guide (0.1.384 and older)
Guide To Use SlickVPN Client
1. Dashboard:
---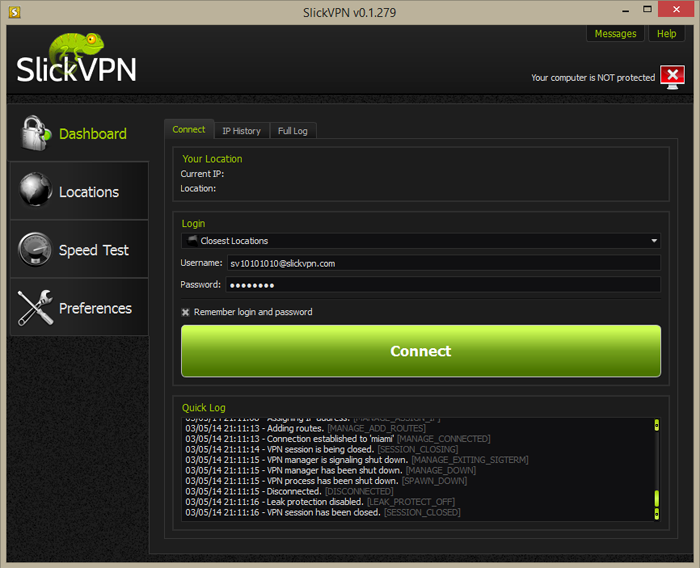 The Dashboard is the main part of the client that you'll be using.
There are three important areas:
1) Your location – Shows the current IP and location

2) Login – Dropdown box for groups, login and password

3) Protected Icon – Shows the current state of the client (Green for connected, red for disconnected)

2. Locations:
---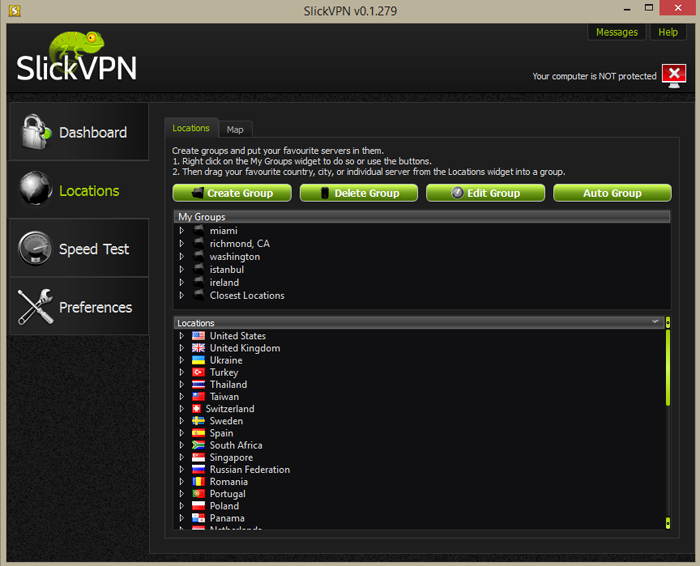 The Locations pane is where you can setup and edit custom groups.

Create Group – Create a new custom group
Delete Group – Removes the group
Edit Group – Edit the group name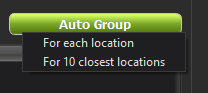 Auto Group – Automatically creates groups for each country or the 10 closest locations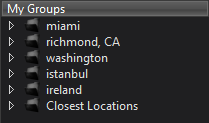 My Groups – Lists the custom groups that are available from the dropdown menu on the Dashboard. Click the arrow to view the contents of the group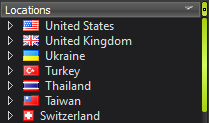 Locations – This area lists all available locations by country. Click the arrow to see which cities are available
3. Example Usage:
---
To watch British region restricted videos from outside the U.K.
Create a group named UK
Drag the UK group from the Locations area to the My Groups UK folder.
Go back to Dashboard and select the new group from the dropdown box above login/password area
Alternately, you can click the arrow next to the UK flag to show individual cities and drag them into the folder
Preferences:
---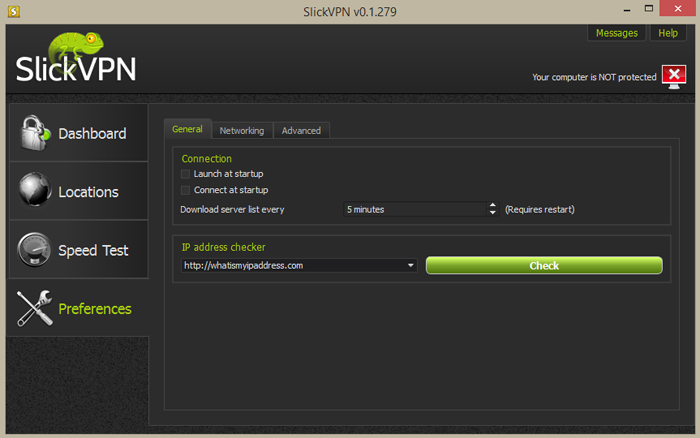 General Tab
---
Connection menu
a) Launch at startup – Will launch the client when the computer starts
b) Connect at startup – Will automatically connect the client when the computer starts
IP Address Checker – Link to verify IP address
Networking Tab:
---

1)Common menu
a) Set default gateway – This option enables/disables sending traffic over the VPN. Default is enabled (protected)
b) IP and DNS leak protection – This option acts like an internet kill switch. It disables all routes on your computer and then adds a route over the VPN. This will keep your internet from working if you lose the connection to the servers.
c) Protocol – UDP or TCP. UDP is much faster but TCP is useful in some cases when you want to mimic HTTPS traffic.
d) Port – Changing ports may help if you're having connection issues. Can be used in conjuntion with the protocol to mimic HTTPS by choosing port 443 and the TCP protocol
2) Balancing
a) Load Balance – Automatically choose gateway based on server load
b) Closest Balance – Automatically choose from the closest gateways
c) Random Balance – Connect to a random server each time you connect
3) IP Settings – Use this to automatically change IP at a set interval
a) Interval to change IP – minimum 5 minutes
b) Notify of IP changes on the tray
Advanced Tab
This menu is only for advanced users. Using this menu might break your connection.