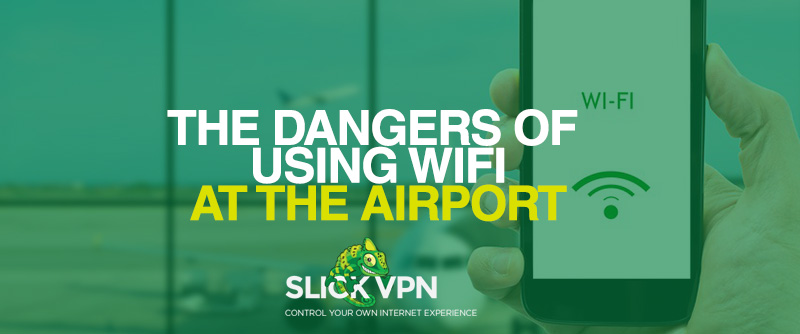 The Dangers of Using the WiFi at an Airport
Okay, how many of us have used the WiFi at the airport?
Let's face it, sitting at an airport waiting for a plane, sometimes a delayed plane is the perfect time to catch up on so many things.   An hour or two at the airport lets you finish paying bills, clean up your emails, work on a project for your company, or maybe do online shopping.   Doing all this on the comfort of your Smartphone, Tablet or laptop on free wifi makes this the perfect way to waste some time while waiting to leave on your journey above the skies.
Notwithstanding the nice gesture of the airports offering a fast free wifi network, this gesture can disguise as a very big hazard to travelers.
THE FACT IS:  Countless airports around the world are unencrypted, improperly configured and unsecured.  Not to mention that the CyberHacker can be right next to you following everything you do on the internet.
One of the latest scams is the installation of fake hotpots.   Think you are enjoying some time in an airport lounge or a restaurant? Think again. Hackers are set up and ready to steal your information and personal identity.
Where are the Least Secure Airports in America?
In July, The Travel Market Report looked at the 45 busiest airports in the US to compare where travelers should feel the most vulnerable when signing onto a WiFi network.

Southern California leads the list with the top two Airports with unsecured Wifi at the San Diego International Airport and The John Wayne Airport in Orange Country. Coming in at Number three is the Houston-Hobby Airport.
Question: If you were at San Diego International Airport and saw the wifi network "#SANfreewifi, would you sign on?  If you did, instead of signing onto what you thought was free wifi, you would have set yourself up to be a victim of an ARP (Address Resolution Protocol) Poisoning attack!
The Moment you agree to the Terms and Conditions of the Public Network, a hacker can install Malware on your device.
If you are among the millions of travelers that think there is some Firewall on these Public WiFi Networks, you are sadly mistaken. Your information becomes a virtual candy store for cyberthieves. A candy store where all the candy is free!
"But I entered in a Password"
Because an airport WiFi asks you to enter a password does not make your connection safe.  Passwords are a perfect way to make a user feel they are safe, but in reality, it is just a decoy to make an illegitimate hotspot seem legit.
Today's hacker is not satisfied with just stealing a person's identity,  the cybercriminals take advantage of the unsecured Airport WiFi to plant malware. The thieves are so advanced they are able to hack into the network point itself causing false requests for updates.  Never click on the popup asking you to update an application while on the public WiFi as this is the ultimate trigger of the malware.
---
GOOD NEWS: You can still protect your identity when using Airport WiFi
Most popular public places in this world now offer some type of WiFi.  The more WiFi hotspots that exist, the greater opportunity a cybercriminal has to run amuck and do some real damage. Luckily there are still measures you can take to keep your identity safe and your devices free from malware.
Never Log-In Without a Virtual Private Network (VPN)
Virtual Private Networks, like SlickVPN is your first defense.  The VPN creates an extra layer of security that encrypts all your information at the source (your device) stopping the criminals from breaking through and viewing your personal data.  The next time you are at the Airport, open the VPN when joining the airport WiFi to access a sub-network away from a hackers' reach.  Traveling on Business to a country like China?  A VPN like SlickVPN gives you access to your essential work applications that are blocked by governments.
Semi-Opened WiFi
WiFi HotSpots are sort of like cars, not all are created equal.  Many spots at the airport like Restaurants, Cafes, and Lounges have what is called Semi-Opened Hotspots.  These type of hotspots become less attractive to potential hackers as often they come having to buy a meal or pay for an access to an airline lounge.  These types of hotspots have fewer users connected plus hackers would prefer not to lay out funds for a glass of wine while stealing your information.  A great way to make sure the semi-open wifi is indeed from the location you are at is to ask a restaurant manager.
Turn-Off Sharing on Your Device
Tablets and Laptops often have default storage locations pointing to the cloud. Mac Devices are equipped with AirDrop which sends out information to the cloud ready for someone with another Mac device to receive.  Luckily you can limit these things by deactivating print and file sharing capabilities in your settings as well as turning off the AirDrop on the Mac devices.
Always Verify Network Names
There are plenty of signs and literature all over airports letting you know the exact name of the WiFi Network to sign onto. Don't just pass by and take a quick mental note of this information.  Record the exact name, take a photo of the exact name, do whatever you need to in order to remember the name. Creating similar Network Names for WiFi is one the biggest tricks used by hackers to fool its potential victims.
---

What else can you do?
We all love WiFi – and instead of remaining vulnerable to victims and limiting how we use our WiFi, we can use SlickVPN.  Nobody is going to stop us from checking emails, looking at the balance of our bank accounts or missing a great deal on Amazon while sitting waiting for a late plane for three hours.
Stopping these activities will not resolve the safety issue. Having the understanding of airport WiFi risks and taking appropriate measures for protection is the best way to surf the friendly skies.
The easiest way to avoid a cyberstalker is to make yourself hard to find online.  SlickVPN will encrypt all the data you transmit—and it also blocks your IP address.  Cyberstalkers can't track your encrypted data, and they won't know if you're online.
No one can monitor what you do online.

No one can throttle and slow down your connection.

You'll surf completely anonymously, and with the highest possible quality…
The strongly encrypted tunnel produced by SlickVPN means the addresses or URLs of any site you visit are masked, as well as any unique identifiers for you.  So you can stay safe online.
24/7 support, blazing fast connections, and a 30-day money back guarantee.