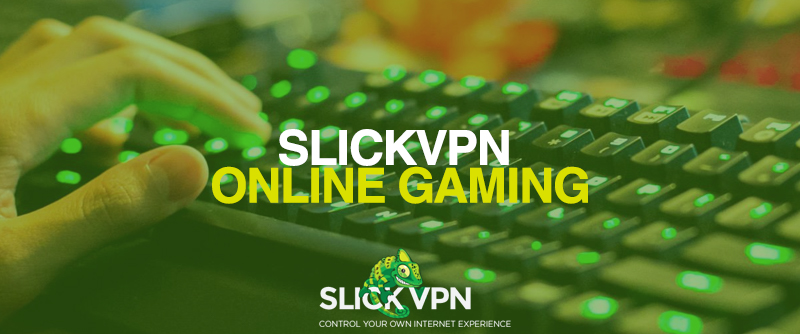 SlickVPN VPN and ONLINE GAMING
The Google Trends search says it all:  as interest and participation in online gaming has taken off over the past 5 years, so has the concern for safety, security, and access to desired games.  This has drastically driven the search for VPN (Virtual Private Network) solutions to address these concerns.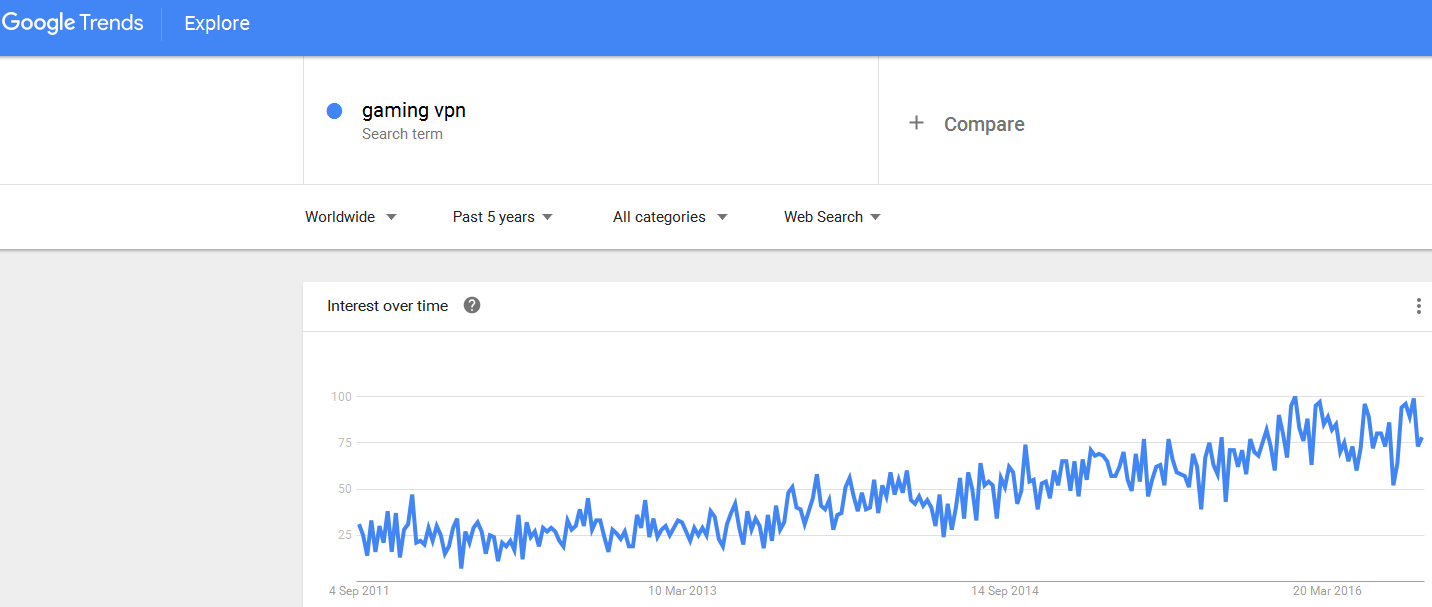 The gaming industry has come a long way over that period too.  Game developers continue to push the envelope in regards to creating engaging games with stunning graphics and multiple-player capability—all played online.
Accessing Games with Geo Restrictions
It used to be that VPNs were used primarily for corporations concerned with privacy of their online communication.  Later, more users discovered that VPN service—which masks the original IP address of the user while simultaneously being able to mimic an IP address from virtually anywhere in the world—could allow access to geo restrictions on online content.
And this is a strong draw for online gaming—users with VPN can bypass regional restrictions that are placed on games.  For instance, Blade & Soul, a martial arts strategy game developed by NCSOFT was launched in 2016 in Korea only.   a strategy war game, was launched early in 2016 in Korea exclusively.  Anyone outside of Korea has to utilize a VPN service emulating a Korean IP address in order to play the game.
Privacy and anonymity for online gamers
The same desire for privacy and security driving regular VPN users also fuels the growth in the online gaming community.   DDoS attacks (Distributed Denial of Service) happen often to gamers, especially if they are streaming.  Sites like Twitch, the leading platform and gaming community site, or on STEAM, a tremendously popular digital distribution platform and online gaming social network—are especially targeted for these attacks.  One Steam user complained about the attacks, stating,
"I'm offline for hours… at least 3-4 hours, if not more.  I am at my wits end here."
Taking a clue again from the corporate world, VPN service can protect the user against DDoS attacks— read here about how corporations use VPN service to protect themselves against their data being held hostage.
 But not just any VPN will do…
Online gamers searching for a VPN connection to protect themselves while gaming online need to consider speed.  When connecting to a VPN, the game data must travel across different servers—often in far-distant locations—before reaching the game server itself.  So users must have a VPN service that is F-A-S-T to decrease ping time and minimize packet loss.  While it is true that many gamers use VPNs to ensure a faster and more secure connection to the game server, the truth is that VPNs don't really affect your packet transfer speed that much. This is because even when you connect to a VPN, your game data has to hop across different servers before reaching the game server, and this increases ping and lag time and potentially leads to packet loss.
Online gamers searching for the FAST VPN solution can visit SlickVPN for unthrottled speed, unlimited data transfer, and user choice of security levels to ensure protection.
Having a VPN makes playing games—even games available in countries other than the users—easy.  You're protected from DDoS attacks and have complete privacy while gaming.  But there are a lot more benefits outside of the gaming world, too.
Anytime you're connected to the internet with SlickVPN, you enjoy complete privacy. Your internet traffic is encrypted.  No one can monitor what you do online.  No one can throttle and slow down your connection.
Surf completely anonymously, viewing what you wish. And since you are using SlickVPN with unlimited bandwidth, you'll be able to view whatever you want– everything available online– with the highest possible quality.
Private surfing, strong encryption for protection and security, watching what you want AND playing what you want online over computer, smart TV, or your choice of mobile device.  And the strong encrypted tunnel produced by SlickVPN means the addresses or URLs of any site you visit are masked, as well as any unique identifiers for you.
24/7 support, blazing fast connections, and a 30 day money back guarantee.