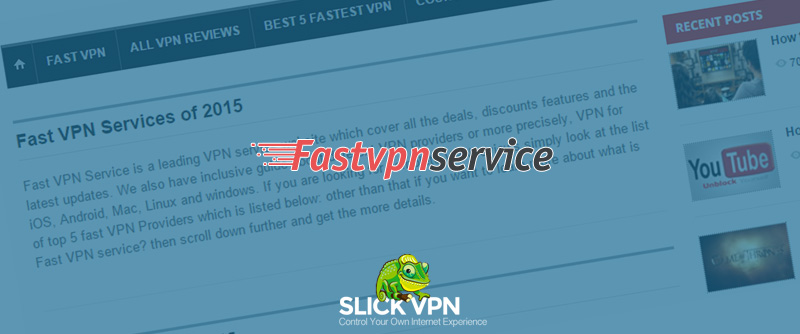 SlickVPN listed as a Top 5 Fastest by Fast VPN
Here at SlickVPN we do everything we can to help you control your own internet experience.  That means protecting your privacy with super-secure encryption that matches your needs; preventing your ISP from monitoring, throttling, and/or buffering your online communications; and doing it all super-fast with 100% reliability from anywhere in the world.
It's a big job, and when we do it right, it's good to be noticed.
Thanks, Fast VPN for listing us on your review site. For those who don't already know, Fast VPN Service is a leading VPN review site who only lists the fastest VPN providers on their website and recently they rated and listed us under Top 5 fastest Canada VPN Providers.
Big props to Fast VPN for giving consumers the information they need to make the best decision possible when it comes to their choice of VPN provider.
And we're thrilled to be listed as a Top 5 Canadian VPN provider.
With SlickVPN, no one can monitor or affect what you do online.  The encrypted tunnel produced by SlickVPN is super-strong, and that means the sites you visit are masked, as well as your unique identifiers.
And this protection starts at just $5.00 per month, or just $28.99 for a year with special pricing available now.  24/7 support, blazing fast connections, and a 30 day money back guarantee.
Control your own internet experience wherever you are—at home, or on your mobile device.