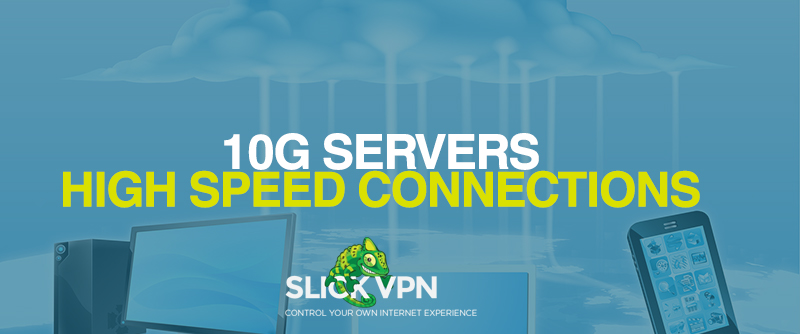 SlickVPN High Speed Upgrade
So you may have heard that VPN service makes the internet… well… slower.  And that can be true with some VPN service.  But not with SlickVPN. That's because SlickVPN now offers High Speed Servers.  That's 10G servers, if you are interested, which are, not surprisingly, 10x faster than typical VPN 1G connections.
But before we tell you all the details, let's talk about speed, what affects it, and how SlickVPN addressed your need for it.
When you are using a speed tool to test an internet connection, you're really measuring three things:  latency, download speed, and upload speed.  These are the three components that control how fast you can drive.
Latency is the time between your computer sending a request and receiving a response.  The farther your request travels—and over what type of material—is the main thing that can affect latency.  Download and upload speed both are really just measurements of how much data moves over that same connection.  Got it?
So think about anything that requires streaming.  That's listening to music… or watching a video, or movie.  You need a very steady connection for the streaming to work.  And if you are downloading a large file to look at, you want it sooner rather than later.  So in these cases, the download speed is very important… and for most users, is the most important component.
But at the end of the day, it's really the speed of the server which has the biggest effect on your internet experience.
Faster server = faster connection.
Some VPNs DO Slow You Down—Other Factors
Some VPNs don't have as many servers as others.  That means more people trying to use the same server bandwidth can slow things down.
Finding servers closer to your own location can also reduce latency.  Again, lots of server locations helps with this choice, too.
Another consideration is which protocol the VPN services uses.  If the VPN service has a choice of different protocols, the user can choose their balance of speed versus levels of security.
SlickVPN now offers the next generation of speed:  Ultra High Speed Server Connections.  10G connections that are 10 times as fast!
Worldwide server locations, big variety of protocols, plus unthrottled connections and unlimited data transfers!
With well over a hundred servers all around the globe, users can choose a location that's uncrowded.  And the choice of protocols allows users to decide the right balance of security and speed.  Plus unthrottled connections—not now, not ever—and unlimited data!
Add all this and throw in the 10G Connections?  No other VPN is even close!  Not to mention the reason you're using the VPN in the first place:  Privacy!
Anytime you're connected to the internet with SlickVPN, you enjoy complete privacy. Your internet traffic is encrypted.  No one can monitor what you do online.  No one can throttle and slow down your connection.
Surf completely anonymously, viewing what you wish. And since you are using SlickVPN with unlimited bandwidth, you'll be able to view whatever you want– everything available online– with the highest possible quality… and now with 10G Ultra High Speed Server Connections!
Private surfing, strong encryption for protection and security, watching what you want AND playing what you want online over computer, smart TV, or your choice of mobile device.  Streaming never looked so good, and downloading a 4K movie never happened so fast!
And the strong encrypted tunnel produced by SlickVPN means the addresses or URLs of any site you visit are masked, as well as any unique identifiers for you.
24/7 support, blazing fast connections, and a 30 day money back guarantee.