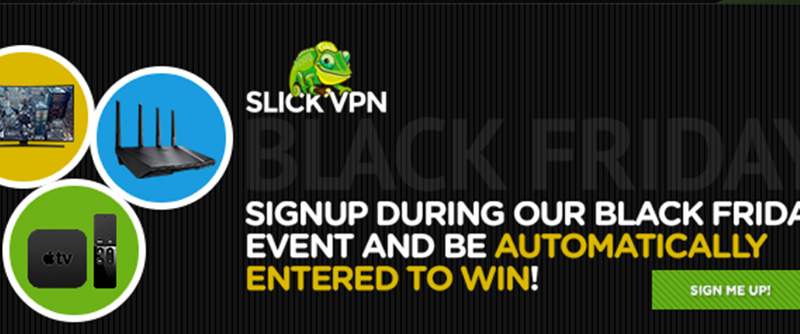 SlickVPN Black Friday Contest
By the time Black Friday rolls around, you could have some important shopping already finished! SlickVPN takes the week before Black Friday to give you great discounts on their award-winning VPN service as well as chances to win great prizes!
Instead of shopping at the mall for your Samsung 65" Curved UHDTV, with next-generation 4K crispness and the awesome curved screen, you could win it for free! Suggested retail for this TV is $3,199.99! But just sign-up for one of the billing options at SlickVPN and you'll automatically get a chance to win. The more months for which you sign up, the more chances you get!
Or imagine surfing the net anonymously with your new super-fast ASUS AC router — the newest, fastest standard for WiFi. The ASUS AC2400 dual-band router can yield up to 2334 Mbps – enough to watch 4K TV via wireless!
The 32 GB Apple TV is the future of television. Your favorite content providers, including Netflix, Hulu, and HBO are all available. Plus, the new TV App store brings more to your TV than ever before.
Sign up for 3 months of SlickVPN service at just $4 per month, and you'll save 60% off the monthly rate — and get 3 chances to win. Sign up for 6 months of SlickVPN service at just $3.33 per month, and get 6 chances to win. Or sign up for a full year, and pay just $2.42 per month — a savings of 76% and 12 automatic chances to win!
Want more chances automatically? It's easy, and you can do something good to get them:
On the SlickVPN sign-up page, you'll see options for contributing to the American Cancer Society or to the Electronic Frontier Foundation. $1 donated to the American Cancer Society helps fund the fight against cancer, and also earns one extra entry. $1 donated to the Electronic Frontier Foundation (EFF) helps fuel this non-profit groups fight to Defend Your Rights in a Digital World and also earns TWO additional entries.
*No purchase necessary. For a free entry, simply mail a postcard to: 713 E GREENVILLE STREET, SUITE D, 101, ANDERSON, SC 29621 USA. Overall odds of winning depend on number of valid entries.