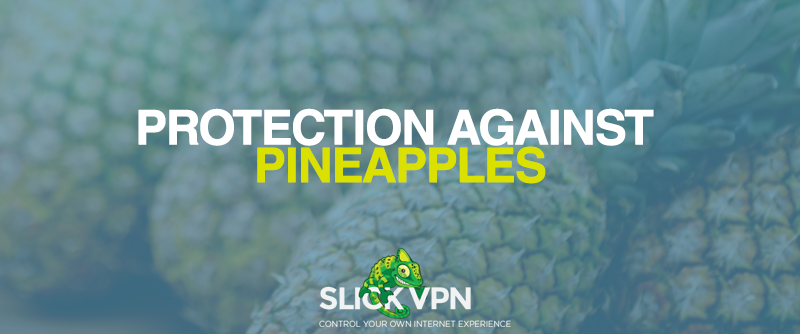 Silicon Valley Pineapples
Published On: June 19th, 2017 Filed Under:
Hardware
,
Locations
,
Operating Systems
,
PPTP
,
Security
,
SlickVPN Client
,
SlickVPN News
,
Streaming
,
TCP/IP
,
VPN
,
WIFI
The legend is that from the ancient Greeks to colonial America, the pineapple has long been a symbol of hospitality—and that is why even today you can see the pineapple symbol gracing hotels, homes, and restaurants. It's a sign that a guest can count on a warm welcome.
---
But when it comes to free Wi-Fi, a 'pineapple' means something else, and that something is much less hospitable for those who encounter it. The Wi-Fi Pineapple is a device that, for less than a hundred dollars, can give cyber criminals easy access to your online activity.
If you haven't heard of the Pineapple, you'll want to pay attention. The HBO series "Silicon Valley" (about an engineer named Richard Hendricks trying to build his own tech company 'Pied Piper') used the Pineapple device as a key element in the plot of this season's penultimate episode.
It seems Hendricks and crew have plans to salvage the 'Pied Piper' app and algorithm by hijacking the phones at a tech conference. They use pineapples that will control the phones of attendees and ensure what Hendricks calls "adoption through aggressive guerilla marketing."
And the feasibility of this might not be so far off: anyone who's visited any kind of conference can relate to the idea that the Pied Piper crew dismiss any worries that phones slowed down by the intrusion might give them away– as free Wi-Fi is so notoriously slow anyway.
---
The crew is unsuccessful in 'Silicon Valley,' but results tend to be better—or worse, depending on your viewpoint—in real life. Pineapples pass you through to the actual internet but sniff all the data you send along the way. Your data can be captured as it passes through.
---
A Wi-Fi Pineapple scans the router spectrum (usually 2.4GHz band) and looks for devices trying to access a network. The Pineapple then gives the laptop internet access, assigning an IP address. After that, the person controlling the pineapple is actually in control of whatever data you send over the network. In short, it's a new type of Wi-Fi honeypot—set up to intercept everything you view or do while connected.
How to protect yourself? The simplest way is to simply avoid free Wi-Fi. But short of that:
Connect only to networks with which you are familiar.
Avoid entering financial data or passwords.
Delete unfamiliar wireless connection settings.
Use a great VPN service likeSlickVPN

.
---
A VPN service like SlickVPN masks your data. It does this because it creates a super-strong encrypted tunnel through which all your internet traffic is routed.
While using a VPN, no one can see or affect what you do online—not potential data thieves or cyber spies—not even your Internet Service Provider. And certainly no one with a Pineapple.
Just use your computer, tablet or smartphone to connect to SlickVPN and then you're protected. There will be no monitoring, no throttling, and no selling of your information to third parties—because they can't see you. Your data can't be sniffed, captured, and used to cause harm.
The sites you visit are masked, as well as your unique identifiers.