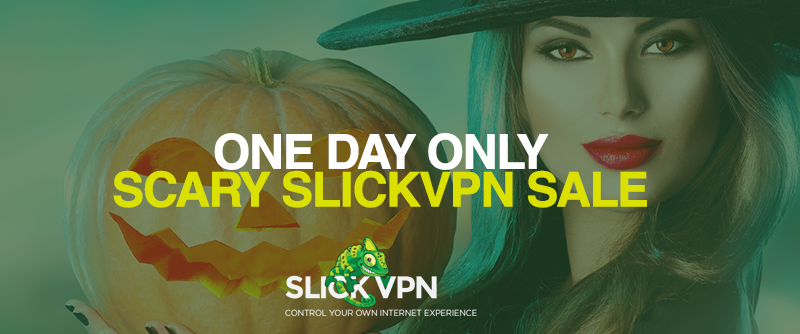 Seriously Spectacular Savings from SlickVPN
Celebrate Halloween with a scary good deal from SlickVPN!
Come and knock on our door, grab a handful of savings with our holiday special.
Private surfing, strong encryption for protection and security, and watching what you want over computer, smart TV, or your choice of mobile device.  And the strong encrypted tunnel produced by SlickVPN means the addresses or URLs of any site you visit are masked, as well as any unique identifiers for you.  24/7 support, blazing fast connections, and a 30 day money back guarantee.
---
Access Content that is Geo-Blocked
Some streaming servers are set to only feature certain content only for users in certain countries.  Lots of content is geolocked—unless you have SlickVPN.  Just  choose a server located in the same country as the content you want to access and you're connected… Slick!
Access to New Releases EARLY
Say that brand new series debut or that brand new movie is being released worldwide at midnight.  If you are in the USA, you can connect to a server in Singapore, which is 13 hours ahead of EST.  So you get the debut more than half a day before anyone else!
Keep Prying Eyes off Your Internet Traffic
Privacy is freedom.  Protect your privacy with SlickVPN .  Then your Internet Service Provider (ISP) won't be able to see and track everything you are doing and whatever you are streaming.  SlickVPNcreates an encrypted tunnel through which all of your data is transmitted.  No one can monitor or affect what you are doing online.  And all the sites you visit are masked.
Stream Anonymously
You can browse, download, and stream with complete anonymity with SlickVPN.  All traffic—including downloads and streams—is encrypted with your IP address masked by the VPN server.
Use your home computer  to connect to SlickVPN.
Connect on the road with your mobile device.
Use  SlickVPN  on your laptop.
Anywhere, anytime, no matter what you are doing– protect yourself with SlickVPN!
No one can monitor or affect what you do online.  The encrypted tunnel is super-strong, meaning that the sites you visit are masked, as well as your unique identifiers.  You can stream in privacy, access geo-restricted content, and download without your IP address showing up.
---