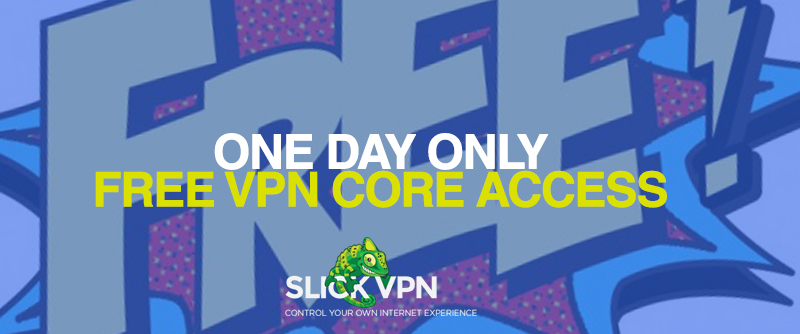 Binge Watch What You Want This Sunday For FREE!
The hottest shows, Halloween-themed movies, must-see TV and entire episodes of the shows you've been wanting to watch are waiting for you!  And here's your chance to make their acquaintance this Sunday—all day—for FREE!
That's right, watching what you want just got easier—and a whole lot cheaper (as in FREE) this Sunday—thanks to the first in class virtual private network (or VPN),  SlickVPN !
You see, what might have been interfering with your viewing pleasure are things like rights extensions, geographic limits, and time shifts due to providers desire to have certain shows air at certain times in different time zones.   This can make it hard or sometimes prevent you completely from seeing everything you want to see.
But a quality VPN service, like SlickVPN along with an internet signal can deliver the content you want to you.  So you can watch what you want from anywhere around the globe.
Want to watch a premiere of a show early?  Just use SlickVPN to change your 'virtual' location.  How does it do this?  Simple:  by allowing you to access a server in the city or country of your choice— which gives you an IP address located in that country.
Call the pizza guy, and invite some friends!
Better still, a quality VPN service like SlickVPN allows you to watch on your Smart TV, or desktop, laptop, tablet, or mobile device.
Speak another language?  SlickVPN can help with that, too!
Sure, there are different versions of shows in other languages.  You just haven't been able to find them because you haven't had SlickVPN.   With thousands of IP addresses available at any given time, in servers located in in countries around the world, you'll find all the options out there to                                                                                           Watch WHAT you want, WHEN you want, from ANYWHERE!
Want to watch the season eight premiere of "The Walking Dead" on AMC?
Want to find horror movie classics like "Night of the Living Dead," or some old-time fun like the original "Dracula," or "The Wolfman?"
Want to binge watch some entire episodes of shows you've been missing?
Free trial all day long – from 8am Sunday morning October 29th through 3am early Monday morning October 30th, the world is your oyster.
Have a movie marathon, or watch premiere episodes earlier than they're scheduled where you live.
Free means free, with no credit card required – No cute moves, no recurring billing, no "we'll bill you unless you cancel" just an honest-to-goodness FREE PREVIEW all day long this coming Sunday.
Sign up at SlickVPN.com and just enter your email address and agree to the terms and conditions to get access to this top-rated VPN service.
Having a VPN makes watching what you want easy.  We're so confident you'll like it that we're making this free offer.
But there are a lot more benefits, besides.
Anytime you're connected to the internet with SlickVPN, you surf in complete privacy.  Your internet traffic is encrypted, so no one sees you or is able to monior you do online.  The strong encrypted tunnel produced by SlickVPN masks the addresses/URLs of any site you visit, as well as any unique identifiers for you.
And because you're invisible, no one can throttle and slow down your connection.
SlickVPN has unlimited bandwidth, so watching high-quality video is a snap!  Watch what you want, when you want, with the highest possible quality, in complete and total privacy.
Private surfing, strong encryption for protection and security, and watching what you want over smart TV, computer, or your choice of mobile device.
24/7 support, blazing fast connections, and a 30 day money back guarantee… if you decide you love it so much after the free trial that you want to sign up.
Get the popcorn popping.  It's time to WATCH!
Control your own internet experience and protect yourself— today, tomorrow, and anytime you're online in the future.