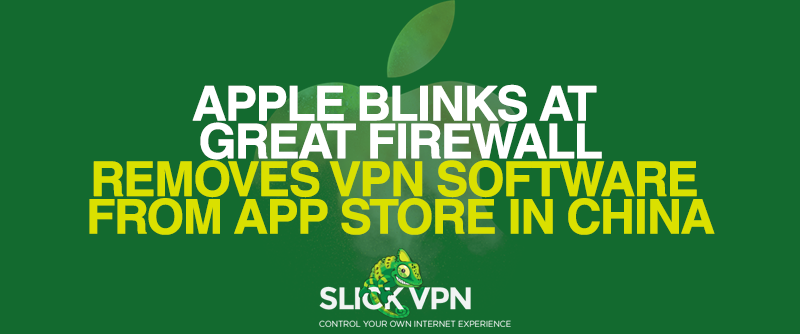 Apple Blinks at Great Firewall: Removes VPN Software from App Store in China
China's internet is highly censored.  Services like Google (GOOGL), Facebook (FB), and even (or especially!) the New York Times (NYT) are simply blocked by the government with a massive firewall.  In order to view the content they desire online, Chinese citizens must rely on a VPN, or "Virtual Private Network" which uses encryption to disguise internet traffic and deliver content anonymously—and protects the identity of the user.
Beijing said in January of 2017 that it would begin restricting VPNs, and reportedly told the country's biggest telecom companies to block Chinese citizens' access to them.  In July of 2017, two operators of VPNs said that they were notified by Apple (AAPL) that their products were being taken out of App Store offerings to China:
"We are writing to notify you that your application will be removed from the China App Store because it includes content that is illegal in China," said Apple in a notice to one VPN provider.  "… it is your responsibility to understand and make sure your app conforms with all local laws."
Other VPN services reported that they too had received a similar notice.
CEO Cook explained, "Earlier this year, (China) began a renewed effort to enforce (their VPN) policy.  We would rather not remove apps, but like we do in other countries we follow the law wherever do we business."
China is a big growth market for Apple.  Removing VPN apps that give Chinese consumers the freedom to use the internet the way they want may not be good for innovation, collaboration, and communication inside the Great Firewall of China—but it will allow Apple to keep selling there.
What is it that is so threatening to the Chinese government?  In a word,  encryption.
A quality VPN service like SlickVPN creates a super-strong encrypted tunnel, and all the user's internet traffic is routed through that tunnel.  No one can see or affect what consumers do online— which is obviously not satisfactory for the powers that be in China.  Forget the fact that potential data thieves and cyber spies are also thwarted by VPNs every day—China just can't have something that masks users identity and what they choose to view online from even their Internet Service Provider.
The good news is if you don't live in China, you are free to simply use your computer, tablet or smartphone and connect to SlickVPN.  That's all it takes to be protected.
No monitoring
No throttling
No selling of your information to third parties
No one can see you.  The sites you visit are masked, as well as your unique identifiers.
You can even access geo-restricted content when you route your internet connection through another country which has the restricted content you want.  It's good to be protected, and good to live outside of China.