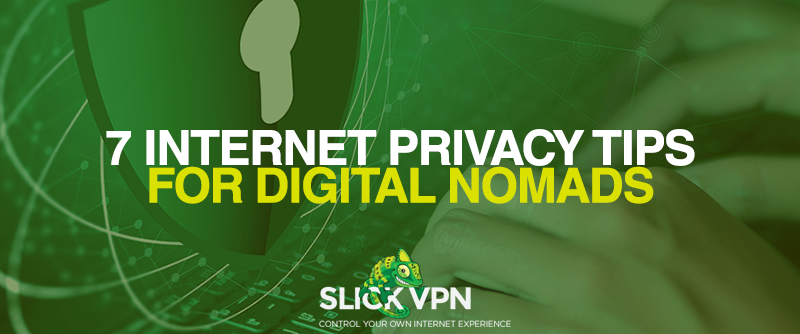 7 Internet Privacy Tips for Digital Nomads
Living life as a digital nomad is the dream for many; being able to travel at your will, work anywhere you want, whenever you want, with nothing to hold you back. However, there's a great deal more to this seemingly glorious lifestyle than first meets the eye.
Being a digital nomad requires a lot of careful consideration, planning and hard work. You'll need to create a packing list, plan each of your travel, and find a way to receive snail mails in your destination of choice.
While most digital nomads have aced the practical side of this lifestyle, there's one critical element that is often overlooked.
We're talking about
internet privacy
.
When neglected, online privacy can be a menace for digital nomads. It can cause you to lose your social media passwords, your bank account details or worse, and even your full-time job. Unlike an office, where the internet is encrypted and regulated, open and free-to-use internet hotspots are visible to anyone who is connected at the same time. This means any information you enter, or webpage you visit, can be intercepted and used for illicit means.

Fortunately, there are ways to keep your internet privacy intact and prevent the sensitive information you share online from falling into the wrong hands. All you have to do is undertake the following measures, and then you can continue living the life you've always dreamed of.

Use a different search engine for non-work-related browsing
If you're like many digital nomads, you depend heavily on Google to get work done. But when you're randomly surfing the web during non-work hours, it might be a good idea to use an anonymous search engine. These search engines don't log or share your search activity or clicks with advertisers. Instead, they offer a secure environment and also block ad trackers on the sites you browse. Some good options for anonymous search engines include DuckDuckGo, WolframAlpha, and Startpage.
---

Be wary of local websites
Travel means that the majority of your internet sessions will involve foreign websites. Because you're not accustomed to using the local sites in some countries, you're at risk. Also, if the content goes through a translation app, this is even riskier, and you can't identify warnings and precautions. If you aren't smart, your laptop or notebook could download malware. For these reasons, try to educate yourself on the major websites used in some countries. In addition to that, avoid purchasing or download anything you don't necessarily need online.
---

Install a Password Manager
With websites and accounts constantly being attacked and compromised, it's essential to have strong, hard-to-guess passwords. This, however, makes them difficult to remember and that's where a Password Manager comes into play. These handy apps save passwords for you and can help you to create unique passwords. Take the time to generate passwords that'll keep an adversary out of your digital life. If you're looking to take things up a notch, consider using two-factor authentication where you'll need to enter a code that's sent to your phone in addition to the password and CAPTCHA for gaining access to your accounts. 1Password and LastPass are a few good password managers for digital nomads.
---

Look for the HTTPS sign

There's usually no risk in using unencrypted websites. But when you're about to share a file, make a purchase or access the cloud database of your company, it's a good idea to check whether the website you're using has the prefix "https" before its URL. HTTPS indicates that a website is encrypted, which makes it difficult for hackers to get in. If the website has the "http" prefix, it's still unencrypted and you should think twice before sending any information over the web. If you absolutely need to use an "http" website, limit your browsing to the bare minimum, and definitely remember to keep your antivirus active to prevent potential installations of computer malware.
---

Limit the use of geo-tagging services
Geo-location and geo-tagging apps are generally used to inform others of your location. Digital nomads love sharing their current location with their relatives, peers, and coworkers. Little do they know that the data collected by these geo-tagging apps can also be leaked, as it happened with Dune! Hackers, therefore, can purchase this data and track your location with ease, which can potentially result in physical harm. So, this is a pretty solid reason to switch off geo-tagging apps on your devices. If you're using a smartphone to surf the web, activating the Airplane Mode should also stop the device transmitting location data.
---
Browse in "Incognito" mode
Incognito is another term for private browsing. The majority of web browsers offer a private browsing option. Activating it tells the browser that you don't want it to store browsing history and cookies on your system, which can minimize some of the consequences of malware and ad-trackers. With that said, it won't mask your browsing activity from your internet service provider or any websites you intend to browse – it just prevents them from storing anything on your PC. Private browsing is available in all popular browsers, including Chrome, Firefox, Safari, and Opera.
---

Use a VPN
As a digital nomad, you'll be mostly traveling from one destination to another and relying on public WiFi for your internet needs. This means you're open to man-in-the-middle and other types of attacks from hackers on the same network. To help keep your private information protected, consider using a reliable virtual private network solution like SlickVPN. VPNs enable nomads to spoof their internet activity while using public hotspots on the go. Moreover, they allow you to connect to a server in your desired location from anywhere. Lastly, the best VPNs don't log information about customers' personal details, where they travel, or what they search for or purchase. Hence, you can be sure that your sensitive information will stay anonymous and private when you use a VPN.
Use these tips to build a Fort Knox of your internet privacy and yourself safe as you jet off on an adventure around the world.